Blue Hard Wax Beads 500gm
SKU: 30-1002
500 gm
Hard Wax. Soft Touch. Our signature hard wax beads provide quick, efficient results and a less painful waxing experience. Formulated with revolutionary flexible polymers, this stripless wax can be applied in multiple sections without breaking or becoming rigid. Heated at low temperatures to minimize irritation, Berodin Blue adheres only to the hair and not the skin itself. Safely removing both fine and coarse hair, these wax beads create a smooth finish with minimum skin reactions.
What it does:
• Flexible formula doesn't require strips
• Adheres firmly to fine and coarse hair without sticking to skin
• Low melting point to minimize irritation
Polymer Technology: Creates a highly flexible hard wax that can be heated at low temperatures to minimize skin irritation.
Beeswax: A natural wax that helps protect the skin and prevents reactions.
Lanolin: An ultra-soothing emollient that can help soften and protect skin.
Glyceryl Hydrogenated Rosinate, Cera Alba (Beewax), Colophonium (Rosin), Ethylene Vinyl Acetate, Lanolin, Triethanolamine, Technical Hydroabietyl Alcohol, C.I.42090 (Fd&C Blue 1)
1) Apply wax in the direction of the hair growth, remove against.
2) Keep hand along side of the body when you are removing the strip, do not pop your hand out into the air.
3) Keep the skin tight at all times. Have the customer help you on areas where you feel you need assistance.
Customer Reviews
Write a Review
Ask a Question
07/16/2021
Cassandra P.

United States
Blue hard wax
I absolutely love this wax and will forever use it, one downfall is when I received it, half of it was already melted due to how hot the weather has been. I would encourage to put an ice pack or something in with the shipments during these killer warm months. Thanks!
02/16/2021
brenda l.

United States
Estheticians Holy Grail
The quality of the wax is par none. By keeping the wax temperature low it allows me to wax sensitive areas of the body without hurting the client. This wax is also flexible which allows me to do large areas all at once. Only the best for my clients. I am honored to stock this wax, Brenda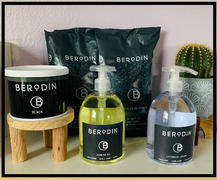 12/18/2020
Payton S.

United States
Great
Came in quickly with no problems